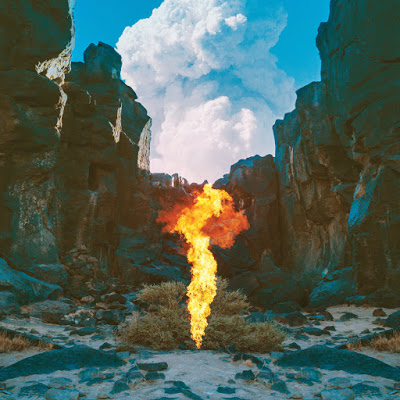 Après son plus gros succès sur disque avec The North Borders sorti en 2013 et une tournée non moins triomphante qui s'en est suivie, Simon Green qu'on connaît mieux sous le nom de Bonobo nous revient en ce début d'année avec son sixième album qu'il a intitulé Migration.
Si ce nom peut faire écho aux actualités, il est avant tout inspiré par son expérience en tournée d'une part, mais aussi de la perte d'un membre de sa famille. Une famille éclatée à travers le globe et qui s'est réunie à Brighton pour les funérailles. Ce sont ces expériences qui ont amené Simon Green à se questionner sur les notions d'identité, et les questions sur l'origine d'un individu qui voyage sans cesse.
Encore une fois avec cet album, les influences culturelles sont multiples, des clubs londoniens à la folk americana. Mais paradoxalement, l'album Migration se montre moins exotique que ses prédécesseurs, exception faite du morceau "Bambro Koyo Ganda" qui propose une collaboration avec le groupe d'origine marocaine Innov Gnawa. Pour autant, il a toujours su s'approprier ces différentes influences pour en faire sa propre musique, à l'identité reconnaissable et c'est tout de même cela qu'on reconnaît et qui est sauf dans ce nouveau disque, qui mêlent avec toujours autant de talent l'acoustique, l'électrique et l'électronique. L'une de ses prouesses est d'arriver à en effacer les origines disparates au point qu'il devient difficile de deviner si telle ou telle sonorité est jouée live ou le résultat d'un sampling.
Une rythmique programmée par ses soins a par exemple la capacité de vous faire croire qu'elle a été jouée en live par un batteur en chair et en os. Si certains morceaux sont plus orientés club par l'emploi de rythmiques 2-step ou house, c'est toujours les mélodies et les émotions qu'elles procurent qui y sont reines.
Ces émotions apparaissent encore une fois crépusculaires, dans la droite continuité de l'album précédent The North Borders,que ce soit dans des morceaux contemplatifs et transcendants comme sur le morceau "Grains" construit sur un sample du chanteur folk Pete Seeger ou des titres plus enlevés et euphoriques comme Kerala, construit lui sur un sample de la chanteuse R'n'B Brandy. L'album se clôt sur une note tamisée avec des samples chantés du morceau "Just an excuse" d'Elkie Brooks associés au même sample qu'avait utilisé Moodyman pour son "Why Do You Feel" mais dans une interprétation plus voluptueuse et délicate.