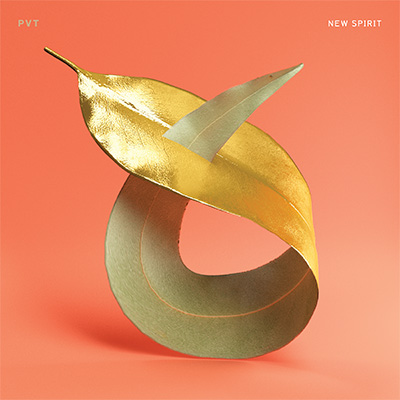 Avec seulement trois albums en vingt ans de carrière on pourrait presque décerner aux australiens de PVT, la palme du groupe le plus improductif qui ait jamais signé sur un label. Mais c'est ignorer à quel point les PVT sont perfectionnistes et surtout combien leur début de carrière a été ralenti par la participation à de multiples side projects, l'un des deux frères Pikes, membres fondateurs de PVT, ayant d'ailleurs longtemps tourné avec Scott Herren au sein de ses deux projets Prefuse 73 et Savath & Savalas.
Quoiqu'il en soit chaque album fut une petite révolution stylistique en lui-même , à commencer par la popification entamée sur l'album Homosapien de 2013, plaçant la voix de Richard Pikes bien en avant dans le mix et qui les a vu comparés à un mélange entre Gang Of Four et INXS. Mais sur ce nouvel album, New Spirit ils s'éloignent un peu de cette ouverture pop, sans la congédier totalement mais en subvertissant les structures et les accroches des morceaux de leur précédent album et en renforçant le côté sombre et expérimental de leurs synthés arpégiateurs, ainsi que la sonorité métallique et martiale de leurs rythmiques.
L'exemple parfait se trouve dans la deuxième moitié de l'album avec le lancinant "Morning Mist Rock Island Bend" et ses 9 minutes de synthés effervescents qui assaisonnés du chant robotique et fantomatique de Richard Pikes, font écho à Fever Ray ou au Peter Gabriel du début des années 80. Comme PVT a une longue expérience du post-rock contemplatif, on n'est pas surpris de leur capacité à produire des morceaux instrumentaux aussi impactants que ceux qui offrent de la voix. Ainsi "Spirit of the plains" ouvre l'album avec des arpèges électroniques bondissants et galopants sur de larges routes cabossées.
Mais cet album est un peu le meilleur des deux mondes et sait également se rendre accessible et émotionnel comme sur les morceaux "A Feeling You Can Find", "Salt Lake Heart" ou encore "Fake Sun In China" dont l'énergie apparaît hachée menue. Ce va et vient imprévisible entre expérimentation et pop apparaît clairement comme la nouvelle marque de fabrique de PVT, et la démarche ainsi que son résultat sont véritablement fascinants.