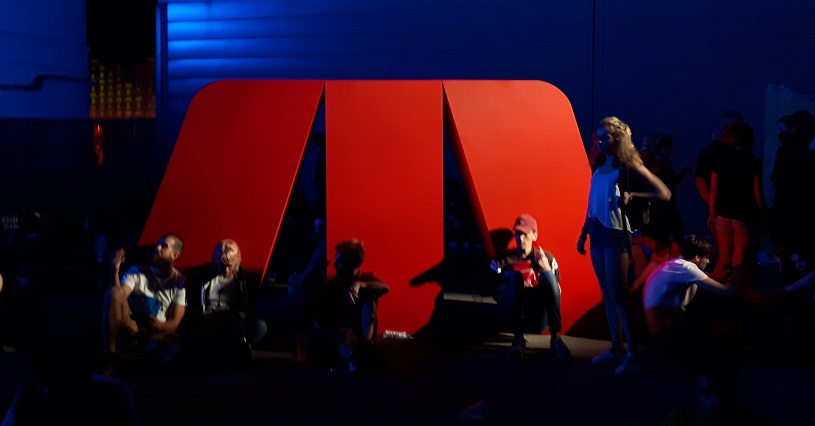 Ça faisait 3 ans qu'on n'avait pas remis les pieds à Marsatac ... Voilà qui est réparé cette année. On est allé découvrir le nouveau site du festival marseillais pour le premier jour. Après notamment la friche belle de mai ou encore les Docks des Suds, cette année le festival marseillais s'était emparé du parc Chanot, tout près du mythique stade vélodrome. D'ailleurs le logo du festival était projeté sur l'impressionnante façade du stade. Le parc Chanot accueille toute l'année des foires. C'est un site très bien entretenu, un peu trop même pour la rebelle Marsatac ! D'ailleurs même si cette année le festival s'est allié au géant Live Nation pour pouvoir continuer ses activités confortablement, il n'a pas pour autant succombé aux sirènes du cashless. Donc pas besoin de se créer un compte et de filer ses données personnelles pour aller boire une bière. Ce qui est plutôt appréciable par contre ce qui l'était moins c'était le temps d'attente.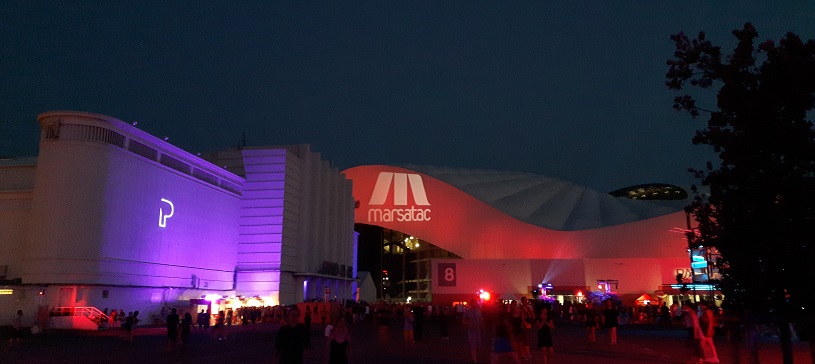 Marsatac a toujours opté pour une communication de festival en marge et cette année elle pouvait se targuer de faire rejouer un groupe mythique marseillais, La Fonky Family. 20 ans après leur premier passage à Marsatac, l'évènement était très attendu des marseillais ! D'ailleurs le groupe le dira sur scène à la fin de leur concert, cette reformation n'aurait pas été possible sans le soutien de Marsatac.
La Fonky Family jouait au grand palais, la plus grande scène du festival mais aussi la plus dur à sonoriser, il fallait donc vraiment s'approcher de la scène pour avoir un son correct. L'ambiance est tellement surréaliste. On se serait cru dans les tribunes d'un stade. Les fumées rouges et les refrains du seven nation army des white stripes te rappellent que tu assistes à un évènement de taille et important pour les marseillais fiers de voir un grand groupe de leur ville rayonner à nouveau sur scène, On passera sur la beaufitude des chants de supporters.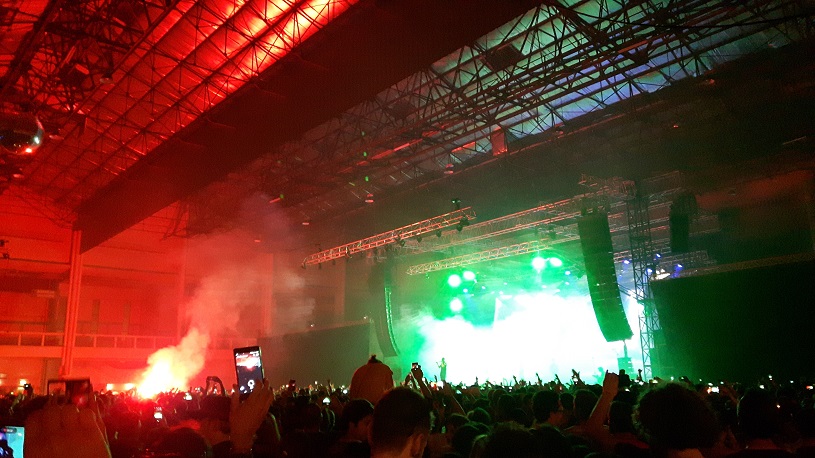 Les fumigènes pendant le concert de La Fonky Family
On n'avait pas vu un public aussi heureux et aussi incontrôlable. C'était électrique et rien comparé aux autres concerts qu'on a pu voir le vendredi.
Même si pourtant le premier concert était celui des Soulwax, véritable machine de guerre à faire danser et programmer malheureusement trop tôt, les belges ont encore prouvé leur alchimie musicale était furieusement contagieuse pour faire danser

Il faut dire que depuis que les 2 frères Dewaele ont embauché 3 batteurs pour leur nouvel album cette année, il est difficile de rester insensible au rythme de leur musique. La nouvelle scénographie est aussi impressionnante ! Tous habillés en blanc, ils ont reconstitué un studio d'enregistrement sur scène et le show évolue de façon constante à voir apparaitre dans le dernier quart d'heure de leur show, la tête de leur dernier album en version xxl tourner comme une boule à facettes.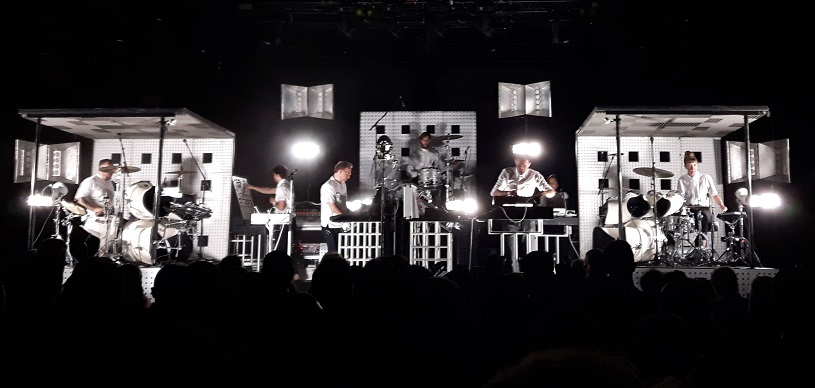 Soulwax
Au même moment sur une autre scène, c'est le duo The Blaze qui fait ses premières armes avec un concert électro plus conventionnel ... deux grandes toiles ou sont projetés des images s'ouvrent sur le duo qui joue face à face. The Blaze est très attendu ce soir-là il y a d'ailleurs presque autant de monde que pour Soulwax à leur show.
Mais le concert qui va le plus étonné est celui de Actress. Disons le non-concert car l'artiste n'étant pas sur scène, c'est un mannequin argenté immobile qui fait le travail ... Bon ok on est resté que 5 minutes et devant une salle presque vide, on comprend qu'il ne se passe vraiment rien.
Actress
Comparé à Nicolas Jaar qui jouera 2 heures plus tard, c'est le jour et la nuit. Il était très difficile de se frayer un chemin pour aller voir la prestation de l'américano-chilien.
Un show progressif ou le décor évolue avec cette barre de lumières qui happe toute l'attention. Si le début du concert est plutôt paisible il prend beaucoup plus de relief à la fin ou la barre disparait complètement pour des sonorités mais également des jeux de lumières plus imposants. Certainement le concert de la soirée avec celui de Soulwax.