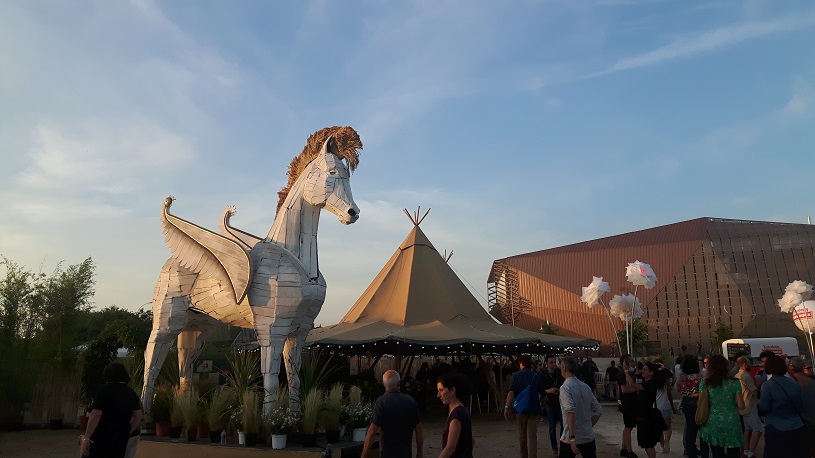 2 ans après notre première venue, This is not a love song nous a encore surpris ... Une sonorisation plus qu'appréciable avec un site à taille humaine permettant un accueil à la hauteur pour un public qui malheureusement ou heureusement vieillit en même temps que le festival. Adulte mais pas toujours responsable, vous aurez plus l'occasion de voir des trentenaires ou quarantenaires pogoter que des jeunes de 20 ans vomir dans les allées ...
Si le nom du festival vient du morceau des punks de PIL comme on l'avait souligné il y a 2 ans, l'ambiance y est quand même plutôt sage et les couronnes de fleurs sur la tête de certains festivaliers nous renvoie plus à l'esprit de Coachella que d'un squat de punk à chiens. On vous rassure quand même on n'a pas vu de sosies de Kim Kardashian, ici c'est plutôt hippie-ster, des passionnés de musique qui regardent encore à quelle heure passe tel ou tel groupe pour ne pas en perdre en miette. Cependant la musique n'était pas la seule attraction cette année, on pouvait aussi se marier pour de faux avec un prête douteux comme on peut certainement aussi en croiser à Las Vegas.
D'ailleurs on a même entendu une conversation étrange dans le public à la fin du premier jour de festival. Un barbu tellement éméché a dit à un de ses potes qu'il avait peur de s'être marié plusieurs fois dans la soirée, en rajoutant que depuis qu'il était avec une fille, il ne chassait plus mais était devenu braconnier ! Des discussions surréalistes, oui on en a entendu et il n'y avait pas que les artistes pour créer de l'animation heureusement ... Le karaoké est aussi une activité de TINALS mais là c'est une autre affaire qu'on n'a pas spécialement voulu suivre.
This Is Not A Love Song reste l'un des rares gros festivals français à proposer une programmation aussi pointue autour du rock, de la pop, du blues, folk et même quelques artistes plus "hardcore" . Il y avait aussi de l'electro ou du hip hop ... mais c'est vrai que le synthé et la boite à rythme ne faisait pas le poids face à l'affluence de guitares ou batterie sur scène. C'est dommage on aurait aimé en voir plus ! On avait bien préparé notre programme avec de se rendre au festival. Il faudra un peu de temps avant de se mettre dans l'ambiance ... Le concert des Growlers est encore un peu mou même si les derniers morceaux rattrappent un peu le début, le groupe ne communique pas avec son public ... C'est plutôt l'enigmatique Alex Cameron qui remportera la mise pour ce premier round. Ce grand dandy australien interpelle et parfois dérange quand il n'impressionne pas carrément le premier rang avec son déhanché légendaire ... Les filles sont conquises et les hommes prennent des notes !

ça va être très dur de reproduire ça sur Flying Lotus, le californien déroule son abstract hip hop assez froid mais tellement profond qu'on prend une grand échelle pour aller mesurer l'épaisseur des compositions de cet artiste atypique. La scéno est réglo, c'est en 3 D et pas la peine de prendre des lunettes, un spectacle son et lumière comme on les aime.
Il faut dire que les artistes électro doivent trouver des idées pour exister dans ce festival rock comme Danny Brown, un autre artiste du label Warp qui a dû au moins faire 5km sur la scène de paloma en faisant des aller-retours pour bien montrer qu'il avait de la présence. Sa voix aiguë en fait un des artistes OVNI du hip hop bien loin de celui qui préfère montrer ses couilles. Tout ce qu'arborait Danny Brown ce soir là c'est son teeshirt ou il était écrit jeune bourgeois déprimé. Un message politique ? En tout cas, on est happé par son flow hypnotique et ses productions dansantes, l'ambiance est là mais c'est rien encore face à la grosse machine MODERAT. Ce trio berlinois nous a encore pris à la gorge avec son efficacité à faire évoluer ses compositions electro pour ne jamais laisser un spectateur sur le bord du chemin.
Le samedi nous proposait une journée encore sous de fortes chaleurs et s'il a été dur de quitter la piscine salvatrice de notre gîte, nous nous sommes consolés avec ce groupe culte qu'est Primal Scream, n'en déplaise aux grincheux jeunistes de la musique qui n'y voyaient qu'un succédané ou un doppelganger des Stones, du rock à papa obsolète, les vrais savent, comme disent les jeunes. Il est vrai que les hardos allemands autour de nous, beaucoup trop vieux pour leur look selon la norme Macronienne et qui connaissaient toutes les paroles par cœur, ne nous aidaient pas vraiment à convaincre les quelques potes réfractaires mais le concert a pourtant apporté quelques bon souvenirs de leur découverte de nos 16 ans, il y a maintenant 21 ans, soit l'âge de ces festivaliers à couronnes de fleur qui dansaient un peu plus loin, sans savoir qu'ils le faisaient ironiquement sur un morceau intitulé "Kill All Hippies".
Nous avons ensuite encore une fois tenté de nous sustenter sans succès , soit l'un des rares points noirs d'une organisation pourtant relativement exemplaire par ailleurs : des files d'attente interminables aux quelques caravanes à la cheminée fumante, dont les mets semblaient fort appétissants mais de beaucoup trop loin pour y sacrifier du temps de festivalier.
Nous nous dirigeons alors vers HMLTD et n'y restons pas bien longtemps car Clément de l'équipe avait l'impression d'assister à un énième groupe d'énergumènes freak show pour qui le look a l'air de davantage compter que la musique, sentant le bordel régner sur scène et préjugeant sans doute un peu prématurément, nous sommes vite partis vers des horizons plus dansants et cocorico avec Rocky qui jouaient hélas en intérieur au même moment. Malheureusement car selon notre pote Perrine Delteil qui programme le festival des 3 Elephants à Laval, nous aurions loupé LE concert du festival ( ou alors les goûts, les couleurs et ta mère en couronnes de fleurs… Allez savoir). On rendra donc honneur à ce groupe avec les mots de Perrine qui passent encore mieux pour cela :
Décidément, la scène punk se porte super bien, et si HMLTD est l'exact opposé de Shame en terme d'extravangance, les 2 participent à cette avant-garde punk (on devrait dire Nouvelle Vague punk rapport au nom du festival, P.I.L, la new wave toussa… bref bref bref). Questionnant les genres, nuque longue verte coupée à la Bowie pour le chanteur (j'ai une pensée pour ma collègue Charlène qui aurait kiffé), maquillage outrageux... leur extravagance questionne l'ordre établi d'une autre façon que Shame, avec un humour très punk (attitude d'imbécile heureux du clavier qui pète parfois un plomb érigeant le débilos comme grand-art de vivre), des attitudes glam, une agressivité inattendue parfois (comme ils se sont tous jetés sur un pauvre gars qui a voulu monter sur scène!) mais ce n'est pas tout. Car ils ont en plus la parfaite maîtrise de leur son et la magnificence kepun de tout tourner en dérision, de se jouer de tout, y compris dans leur musique, et dans un dédale de cassures rythmiques, incessantes et brillantes, où mêmes les sons les plus cheesy font bonne figure, portés par la voix incroyable du chanteur, claire et baroque, on assiste à un concentré d'inventivité, de maîtrise, de génie et de nouveauté, le syncrétisme du punk du ska du glam du balloche et que sais-je. é-pous- touf-flant.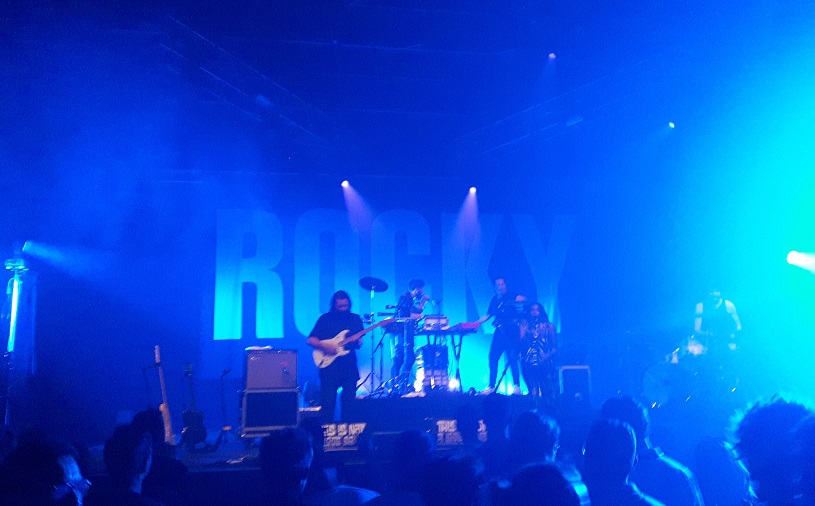 Sur le chemin pour rejoindre la salle où Rocky jouait, on s'est dit qu'on allait quand même faire une grosse halte pour le concert de Thee Oh Sees sur la grosse scène, menés par l'incroyable John Dwyer et servis par un son encore une fois exceptionnel offert par le festival, que nos oreilles (et tout le reste) se doivent de remercier dans les grandes largeurs pour les siècles des siècles. Deux batteries très complémentaires sur scène (pas juste pour "poser"), un pauvre bassiste (pourtant très bon) relégué à toute droite de la scène ( Côté cour comme on dit dans le théâââtre) et au centre un John Dwyer aussi intenable qu'impeccable dans son jeu de guitare et son jeu de scène. On ne les découvrait pourtant pas, mais nous fûmes impressionnés comme au premier jour.
Il était alors temps de se finir en dansant sur un set de Rocky bien rodé / bien carré avec une énergie portée par la section rythmique et la chanteuse, ainsi qu'une envie et un plaisir très communicatifs de la part de tous les musiciens. Leur son Electro Soul et un peu Punk nous rappelle la scène LCD Soundsystem, Hot Chip, Soulwax et ils auraient mérité d'envoyer sur une scène extérieure plutôt que la salle de Paloma, pour ambiancer encore davantage de monde.
Dernier jour et la première surprise s'appelle Pond, les australiens proche de Tame Impala étaient tellement de bonne humeur qu'on avait presqu'oublié que c'était le dernier jour du festival. La joie communicative du chanteur et les riffs psyché n'ont rien à envier aux fameux The Black Angels qui auront plus de mal à nous convaincre sur scène ensuite ...Regards froids et tendus on est aussi bien loin de The Death Grips, le show le plus WTF de ce festival avec en fond de scène s'il vous un mec agitant sa langue sous une paire de fesses. Grande Classe !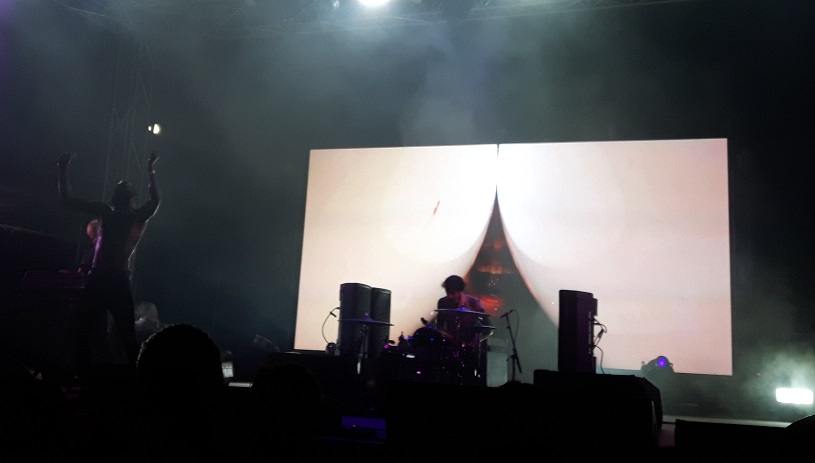 Environ 1heure de pure violence auditive, un show destructuré pour en finir avec les dimanches déprimants devant les émissions de Bernard de la villardière. Non on ne respire plus du moins pas avant le concert de King Giazzrd and the lisard lizard ... Le bouquet final de This is Not a love Song.